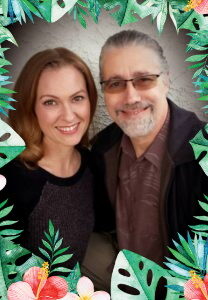 Shelley Wolf was born in Southern California, and has always been fascinated with science.  She received her B.S. from UC Davis in Genetics and worked many years as a laboratory systems analyst.  With her entrepreneurial DNA she founded Wolf's Magic, Inc. with her husband, Chance, in 2003.  Within five years they became the #1 builders of quality magic apparatus for children in the world. It was her son's fascination with sharks, her passion for science, and her husband's award-winning art that inspired her to create a children's book based on one of the most important and misunderstood creatures in the ocean. Her goal is to change the perception of sharks by creating a fun, exciting, and colorful adventure that empowers and educates, while taking the reader on a ride of a lifetime.
Chance Wolf  has worked for over 30 years as a commercial artist.  His work can be found in nationally recognized titles such as Teenage Mutant Ninja Turtles, Spawn Comics and McFarlane Toys.  Chance received an Emmy Certificate honoring his work as a main character designer for the Emmy Award Winning HBO animated series SPAWN.  He has compiled his decades of illustration, design and manufacturing experience into creating the art for the Surf Sharks Series.
Surf Sharks Inc. Terms & Conditions
Surf Sharks Inc accepts returns within 30 days of purchase date.  All electronic transactions will be refunded back to the original account used at the time of purchase.  Returning party is responsible for all return shipping costs.
Surf Sharks currently accepts payments via Paypal EXCLUSIVELY. As a side note, if you are making a purchase with a major credit or debit card, paypal does not require you to have an account to make the purchase. We have opted to use a third party (Paypal) to handle our payment transactions because they specialize in keeping all data safe and secure.
The contents of this entire Web site are copyright © 2013 – 2020 by Surf Sharks Inc. All Rights Reserved. The material may NOT be copied, stored, reproduced, republished, uploaded, posted, transmitted, or distributed in any way, in whole or in part in any form or any medium, or incorporated into any other work, without the express prior written permission of Surf Sharks Inc. In particular, the web pages, images, logos, and concept may NOT be stored or mirrored on any server.
Warning: It is Illegal under US Copyright and Trademark Laws to remove our copyright or trademark notice or to use or incorporate any portion of the materials in any other work.